Holiday Shipping Guide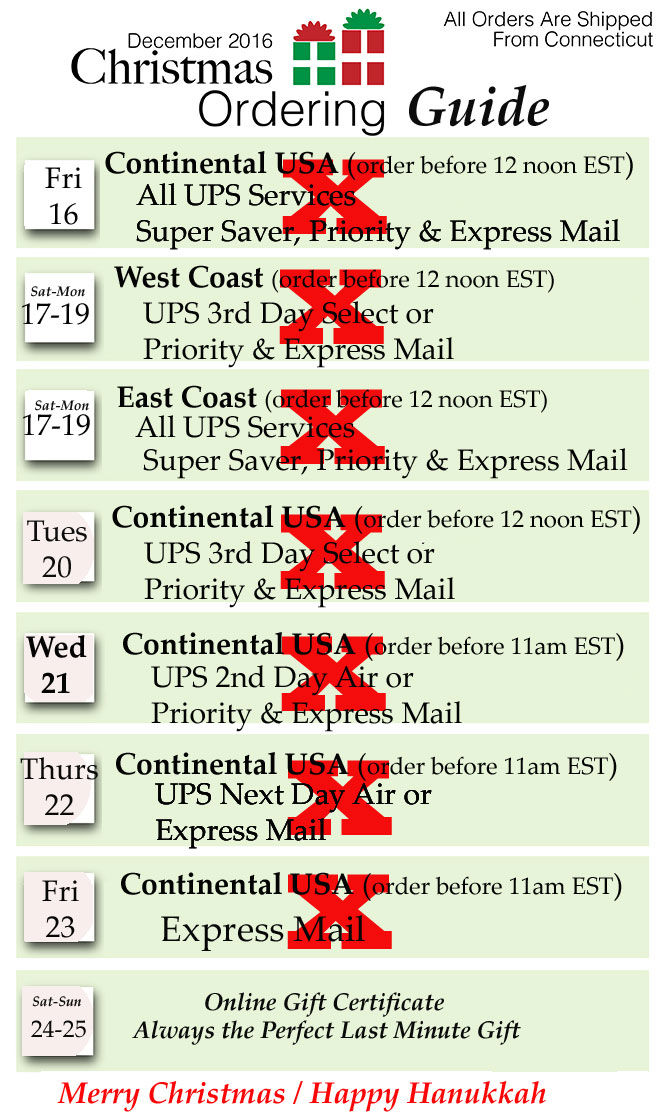 Use the chart to the left to determine shipping to choose to ensure Christmas delivery using the various shipping options available. We list the last day to order by that method to get it by Christmas.
We've worked hard to come up with this handy guide to answer the age old question - How do I get this order before Christmas?
Remember this is the busiest time of that year for both UPS and the post office. Transit may take longer than usual. We pride ourselves with our fast shipping. Most orders are shipped within 24 hours Monday thru Friday, but due to times of heavy volume, holidays or other issues, we state that processing may take 1-2 business days. Please take this into consideration when choosing your shipping method.
This guide shows you the latest that you can select the various shipping methods and be relatively safe that you'll get it to put under the tree. Please remember that this is just a guide and though we do everything possible to get the package to you, unforeseeable problems can result in transit or weather related delays due to winter storms in your area, our area or in between.
Transit time is from when the order is shipping, not from when you place the order. Many times it may be the same day but if you place the order after 2pm Eastern time, you should definitely add 1 day for processing.
We ship out of Connecticut so you'll see a difference for our recommendation for East and West coast as it get closer to Christmas.
* UPS 3rd Day Select: This is always a hard one this time of year. You want the gift to arrive on time but not cost a fortune to get it so you think - Ah, UPS 3rd Day! According to UPS, the order must be shipped on Friday to be delivered on Christmas Eve. Logically you would think you can wait until Monday, but UPS will be so busy at that time that they will not guarantee on-time delivery after Friday the 16th. You can try it but UPS and Absolute Stores will not guarantee that you'll have it by the 24th to put under the tree.
The post office offers Priority Mail, which is the post office's best attempt to deliver in 3 days or less. While not a guaranteed on time service, it's pretty good for the price. Much less than some other options.
Remember when time runs out you can always purchase an online Gift Certificate and the person that receives the gift can have the fun of picking out their own special gift!